Y
ou know those times when the light bulb in your head goes off and you finally understand something?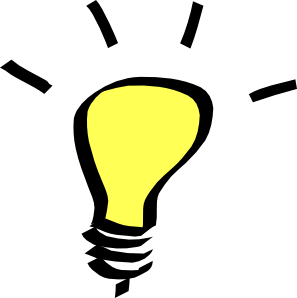 I
t happens to me from time-to-time...probably not as often as I'd like it to! Anyway, today as I was reading my Bible, some things that Adrian Rogers said years ago came back to me!
I
was reading about the wrath and judgment of God on sin and sinful mankind. He was explaining about how the devout Jews of the Old Testament would bring a spotless lamb to the priest. The lamb would be sacrificed on the altar as a sin offering...God would accept the blood of a spotless lamb offered to take away their sin. Then came the 'light bulb' moment. I remembered what Pastor Rogers said. It was something like this, "
The fires of God's judgment would burn out on the sacrifices made on the altar
."
F
or the believer in Jesus Christ, we have this blessed gift:
The fire of God's judgment is burned out on the altar of Jesus' sacrifice
. Think about what that One, Precious, All-sufficient sacrifice has offered to those who will trust in Him.
D
id your 'light bulb' come on? Then join me in praising, thanking and worshiping Jesus Christ, our Savior!
T
hat's all for now, but check back soon for more
REDD-INK
!